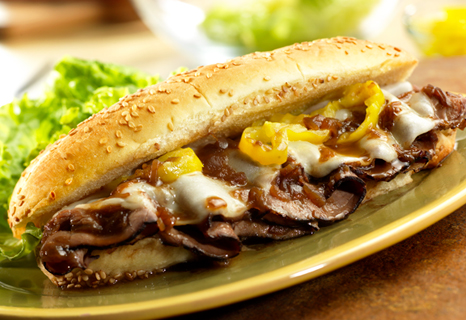 photo courtesy of CampbellsKitchen.com
I saw this recipe in the Parade magazine last Sunday and thought it looked good
(recipe also online at Campbell's Kitchen
).  My husband is not a huge sandwich fan, BUT a hot sandwich with melted cheese is a different story!   :)
I picked up the ingredients at Publix while shopping on Monday.  I used a foot long loaf of wheat french bread (on sale for $1.00!) instead of the hoagie rolls, and just cut it into 4 sandwich size sections.
1 can Campbell's® Condensed French Onion Soup
1 tablespoon reduced sodium Worcestershire sauce
3/4 pound thinly sliced deli roast beef
4 Pepperidge Farm® Classic Soft Hoagie Rolls with Sesame Seeds
4 slices deli provolone cheese cut in half
1/4 cup drained hot or mild pickled banana pepper rings
Heat the soup and Worcestershire in a 2-quart saucepan over medium-high heat to a boil. Add the beef and heat through, stirring occasionally.

Divide the beef evenly among the rolls. Top the beef with the cheese slices and place the sandwiches onto a baking sheet.

Bake for 3 minutes or until the sandwiches are toasted and the cheese is melted.  Spoon the soup mixture onto the sandwiches.  Top each sandwich with 1 tablespoon pepper rings.
(We did not use the banana pepper rings.)
They were soooo YUMMY and, better yet, MY HUSBAND loved them!  And they only took about 10 minutes to prepare.  These will definitely be on the menu again! :)

Cost:
Wheat french bread - $1.00
Can of soup - $1.25
1/2 lb of deli roast beef - $3.50
Provolone cheese - $2.00
Total: $7.25 (and it made 4 servings/sandwiches) so $1.93 each serving
We each ate 1 sandwich for supper, and another sandwich for lunch the next day.

I bought the soup at full price, so it would have been cheaper if I had stocked up when it was on sale.  Will definitely be watching for it to go on sale.  Plus Publix deli meat is rather expensive, so if roast beef was on sale it would be cheaper.