Sorry this is late! I didn't get a chance to do my cooking until Tuesday cause my husband wanted to go to a car show on Monday night so we took advantage of FREE chocolate molten cake at Chili's! :) And then I didn't get this posted yesterday, but better late than never, here is my menu this week and the report on how last week went.


In fact, I
shared on facebook about this
, but another thing I LOVED about this meal plan method was one evening I had done all my grocery shopping and errands on the way home and my husband got home first. I called him, told him turn the oven on, and put the meal (Chicken of the Ritz that evening) in the oven. When I got home, I popped steamfresh veggies in the microwave and by the time I put the groceries away, supper was DONE!
LOVE, LOVE, love it!
One thing I didn't like about it or maybe just the meals I planned was what I had ready for us to eat on Friday. I don't know about you, but I sometimes have to be "in the mood" to eat certain foods, and sometimes I am NOT in the mood for what I have on the menu (or in the case in the fridge!) If we don't have anything planned on Friday night, we like to sort of crash that night after work! Watch a movie, eat fun food, and just catch up with each other after a week of work, and celebrate the weekend (even though my hubby works Saturday too, but at least I am celebrating the weekend!) And I didn't have any "fun food" planned last week, but I remedied that situation this week though…


Because I made this….


Homemade Honey Pizza Dough :)


I made a one batch which will make enough dough for 4 pizzas. I froze them uncooked, and individually wrapped.


recipe here
Then on Friday morning, when I leave for work, I will take one dough portion out of the freezer and put in the refrigerator. That evening when I get home I will roll it out and make…


Homemade stuffed crust pizza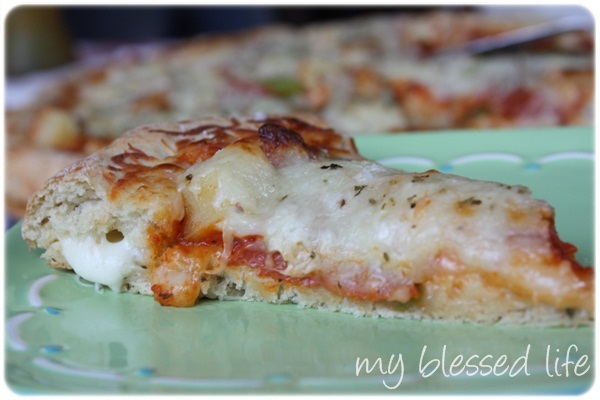 recipe here
Yummy! Definitely looks like fun food to me! :)


I also made a batch of this - Baked cheesy chicken penne


recipe here
And it made a TON! Like enough for 2 pans. So we will eat one pan this week (I am sure with leftovers for hubby's lunch and leftovers for another dinner too) and the second pan is going in the freezer. So 1 meal for this week and another meal in the freezer for another week.


I also tried something new! I have lived in GA most of my life and really do consider myself a "southerner" but I was raised by northern parents. Which means a few things, we grew up eating Cream of Wheat not grits, in fact, I have NEVER cooked grits. Yep, I have lived in GA most of my life, married a southern boy, and NEVER cooked grits. :)


I will be honest, I am not a huge fan of grits, but if they are cheesy, homemade grits I can tolerate them! :) I saw this recipe on Pinterest and thought, cheesy grits, with bacon and shrimp – oh yeah, definitely could tolerate that! ;)


So once I figured out what kind to buy in the store (what brand do you use, cause I am new to this? I just got a no-name brand?), I was ready to try this recipe -


Shrimp and grits
recipe here
( I cooked this during my prep time and we ate it for dinner that night. I have been doing my prep time right before dinner on Monday afternoons.)
Mmmmmmm, so good!! (Even though I forgot to take the tails off the shrimp and we had to sort of pick them off as we ate – whooops!) My husband and I really enjoyed this – definitely will be on the menu again!
So did any of you try the 5 meals in 1 hour meal plan?